Toronto, Canada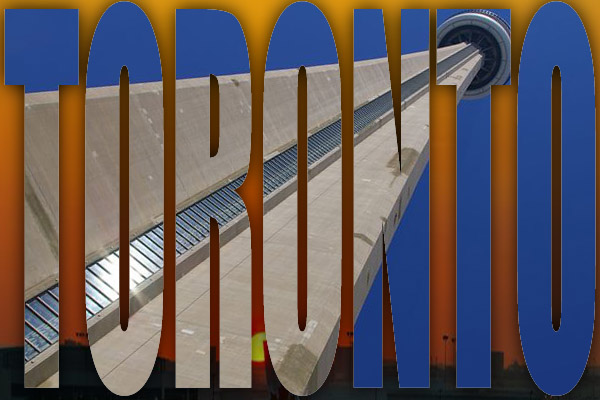 So I flew from Manchester to Toronto. The plane had only just taken off from Manchester Airport when it stopped at Glasgow to pick up some more passengers. Then it was over the North Atlantic past Iceland and Greenland to Canada. I had a window seat and a perfect view of Iceland from the south, spotting the relatively new volcanic island of Surtsey.
I arrived at Toronto (Hamilton) airport, a small warehouse halfway round Lake Ontario from Toronto itself. The FlyGlobespan bus seemed to have been mislaid somewhere, so there was some chaos and confusion whilst we budget passengers waited for FlyGlobespan to sort themselves out. Eventually we were on our way. After stopping at a bunch of hotels and letting off those tourists set to be staying in such luxury, I was dropped off and headed up north towards Patrick's place. When I got there Patrick was out doing salsa dancing with his wife Tanu, and her father kept me awake until they got home. Then I was introduced to the guest room on the ground floor of their condo, a comfortable hotel-style bedroom and bathroom unit just off from the swimming pool and billiard table.
Patrick works as a statistician for Cancer Care Ontario, and is based in the Princess Margaret Hospital.
Toronto City Hall is well-described as a landing-site with a flying-saucer. The main debating chamber is a pod-shaped enclosure between two towers. Fountains and pools provide a cool spot for Torontonians to sit around and enjoy the facilities their taxes paid for.
On this particular day there was a campaign going on to persuade people to buy more local produce. A maze had been created with hay bales and various characters had dressed up as vegetables and farmers to entertain a group of schoolchildren. There were stalls selling Ontarian delicacies. A politician made a speech to the assembled families, sharing the stage with a jolly green woman. My Toronto sales tax dollars at work.
Hippo bus
driving past, so one day I went to the tourist office and booked myself a seat on a tour. The vehicle was custom-built for this kind of tourism, and is the widest vehicle allowed on Toronto's roads. The traffic certainly noticed. We drove round town with a friendly and knowledgeable guide pointing out all the details, then splashed into the water for a quick trip round the inner harbour.
Rogers Centre
baseball stadium. It depicts several members of a typical baseball crowd, apparently. In truth they are wonderful cariacatures who loom large over you as you walk round the centre.
the CN Tower
. Up until a few weeks previously it was the tallest free-standing structure on land in the world until a tower in Dubai was extended. Although the guides in Toronto admitted this with some evident dismay, the posters and notices in the tower had not yet been updated! From the ground the tower presents as a solid concrete structure firmly rooted in the concrete ground next to the Rogers Centre. It can be surprisingly hard to see from Toronto due to the other tall buildings in town. Sometimes you glimpse it down an avenue or as a reflection across the street. Only when you get in the vicinity do you notice that if you look straight up, it appears to be above your head all the time. I headed for the tower early one morning to beat the crowds.
A speedy lift zooms you up to the observation deck, and then a further lift gets you up to the skypod, a smaller and more open viewing platform.
The views from the skypod are wonderfully varied - from lakes and buildings, boats and planes...
The main observation deck has a glass floor. Apparently the glass is strong enough to stand the weight of 15 adult hippopotamuses, which is a good thing since I did share the lift with only slightly fewer large mammals, or 'Americans', as we call them. Some people strutted over the glass, others edged their way along. At one point I stepped back to let someone on, and trod on a plastic cup which fractured with a cracking sound, initially causing some consternation in the nearest tourists. A definite missed opportunity for some serious mischief...
By the time I got back down to the thicker air at the tower's base, the queues were winding round the ticket hall and the line for the lift looked to be about twenty minutes...
The pharmacy building at the university amazed me. The lower atrium contained these two 'pods', which on further investigation turned out to be lecture theatres, suspended from the atrium by thin rods. Entrance to the lecture theatre was by a ramp, and a further ramp from the floor above led to the top of the pod where comfortable chairs gave the students somewhere to relax between lectures. The rest of the building was open and airy, with glass ramps and staircases. When I got home I looked it up and discovered the building was designed by Foster and Partners.
There were numerous tableaux featuring the silk road, traditional chinese myths, stories in the life of the emperors, and one that seemed to be an invasion of psycho-killer pandas. Some of the displays were animated as dragon boats sailed across the water or exotic dancers twirled in the light. Along the harbour side was a long line of illuminated versions of the Terracotta Warriors of Xian.
After the Chinese cultural experience, it was time to get to a more Canadian cultural experience. Canadian Football. Patrick and I headed off to a small park and met up with some friends and friends of friends for a friendly game of Canadian Football. Its a bit like American Football, but we played without rough tackling - you just had to touch the player with the ball to 'tackle' them. In the heat we didn't last long but it was fun. Although my quarterback skills were lacking (I threw more balls to the opposition players than ours), I did receive two great long passes from our star quarterback for touchdown scores. It's quite a feeling to see the pigskin soaring across the blue sky, and you are just running to intercept it, and not looking where you are going, and knowing you are going to catch it, and the guy chasing you isn't going to get you, and this is it, your moment, your catch, your touchdown, nothing can stop you... Shame we didn't have an audience.
Royal Ontario Museum
to get some more traditional Canadian cultural views. Although parts of the building were closed because of a new build and refit, there was still a lot on display from cultures ancient and modern, both native and foreign. The new part has been designed by Daniel Liebeskind, and is an angular eruption from the old building, all angles and glass and reflections. Quite how it works inside I couldn't work out, there didn't seem to be a vertical or horizontal line on the outside.
Well, that was just about it for Toronto. While I was there I took an excursion to Niagara Falls and you probably want to go read that now, and then head off to Victoria once you've done that.