New Hampshire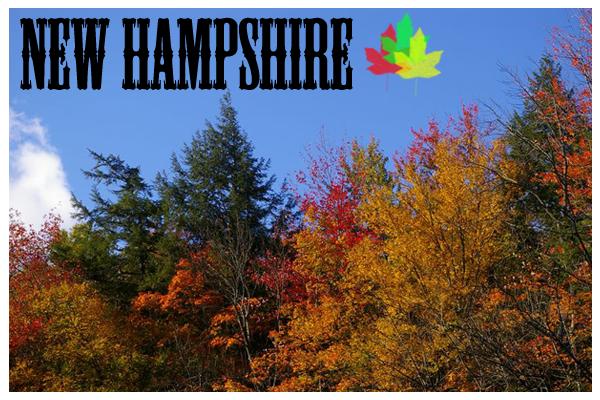 Sitting next to a snuffling, cold-infested person on an overnight flight eastbound over three time zones is enough to make you consider flying Business Class, or the cheaper alternative which is getting a private pilot's license and buying your own plane. Sadly my finances did not extend to this and I arrived at Boston Airport to be greeted by Rebecca and to pass on to her the fine collection of viruses that were deposited on me by Mr Snot while I tried to sleep at an altitude of 35,000 feet. Of course the recirculating air in the cabin meant that he wasn't singling me out for this treatment, but only I could hear his throat-clearing noises every two minutes.
I met Rebecca six years ago when I was working on the Earthwatch team for Sea Otters Of Alaska. She was one of the PhD student assistants roped in by Randy to help out. I was one of the volunteers paying good money to do the actual work. Rebecca was in Boston for some training for her new job back in California and was happy to arrange a trip north into New Hampshire to see the Fall colours.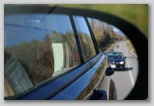 So from the early morning airport reunion we went back to the apartment she has rented and I promptly fell asleep as she went off to work. She came back about 3pm and I woke up and got ready to go. Since it was a holiday weekend (Columbus Day) we had three days off to explore the countryside. First we headed back into town and got a coach ticket to Manchester (note that most of the place names in New Hampshire are English in origin, I won't bother pointing this out again). To get a coach ticket requires that you present some ID, which I found rather strange. Was the FBI tracking us? Did Homeland Security need to know if potential terrorists were going to see the autumn leaves for some reason? Anyway, they let us on the bus without any security checks after that, and we were off to Manchester.
It being a holiday weekend there was traffic, lots of traffic, and we were running late. Rebecca's plan was to hire a car in Manchester, since that was cheaper than hiring one in Boston. She phoned the hire company to tell them we were running a bit late and to make sure she could still pick up the car she had already reserved, to discover that the incompetent fools there had thought she was turning up at 3pm and not 6pm. Consequently they had already hired the car out to someone else. We were dumped in Manchester by the bus, a few hundred miles from our accomodation for the night and with no transport.
So we had to think on our feet. By getting a taxi to the airport we might be able to find a hire car, and failing that airports always have cheap hotels so we could find somewhere for the night. A local taxi dropped us off at the terminal and we found a car at the third desk we enquired at - a Dodge Caliber, a marvellously flimsy plastic piece of engineering (Rebecca has a Merc waiting for her back in California, and I drive a 1983 Series III Land Rover).
Anyway, the Dodge got us to Lincoln, and the Kancamagus Motor Lodge well after dark. We had a room with a fine air of stale tobacco and a steam bath (which I suppose we could have used to fumigate the tobacco essence from the room, but it would have required enough steam to power a Mississippi showboat and an oil tanker full of fragrant oil). Sleep was a welcome relief - except the rattly old aircon did its best to keep us awake.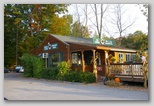 Morning brought us our first views of the trees that decorate the lower slopes of the White Mountains with their infinite variations of colour - green, red, brown, yellow, gold - a full and ever-changing palette. We recharged our stomachs with bagels, juice, and coffee at a sweet little bagel shop at some early hour and drove over to the start of the Falling Waters trail. This path headed up past waterfalls to the Franconia Ridge. The car park was busy but not full, with walkers tying up boots and pulling on rucksacks ready to hit the trail. The path heads up to the Franconia Ridge through forest and past waterfalls. After a couple of hours you break out of the forest near the summit of Little Haystack Mountain at 4840ft elevation.
Eventually you reach the summit. Careful choice of camera angle can hide the fact that we were sharing this summit with about 200 other people. We were never alone on this walk up, with people always either visible above or below, or audible closeby. The sounds of the forest interrupted by loud conversations, the tapping of hiking poles on rocks, and the dripping of sweat from hard-working brows. This is a busy trail, so much so that some rocks are scratched white from the countless impacts of tungsten-carbide tips.
From Little Haystack a fine airy ridge extends north to Mount Lincoln and then Mount Lafayette at 5260ft elevation, the high point of the walk. This summit was so busy it was nearly impossible to get photographs without bright rucksacks and baseball caps spoiling the scenery.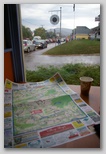 We left the summit heading west and stopped briefly at
Greenleaf Hut
to refill our rapidly emptying water bottles. The hut offers food, drink, and lodging as well as an outside deck occupied by people enjoying the warm sunshine and the expansive views. We didn't loiter too long since the clouds were gathering across the valley. The descent was less busy than the hike up, with even a feeling of space and solitude in places. This rapidly disappeared as we got back to the car, with the car park now overflowing with people parking on any flat piece of grass. We drove back to Lincoln for coffee and cake. The rain came down, heavy. We studied our tourist map from the shelter of a warm coffee shop and planned the next day.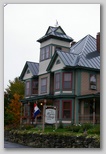 We only had one night in the tobacco-infested lodge, and so as darkness fell we drove out of Lincoln to the
Warren Village Inn
, a large Victorian family home now a bed and breakfast. Our room was clean, tidy, and had a floral aroma with a slightly woody base note plus hints of pine and sandalwood. No tobacco.
After yesterday's hike we decided to take it easy and to go see some of the tourist trails around Lincoln. "The Flume" was a couple of miles that took in a narrow waterfall, glacial boulders, a covered bridge, a wolf's den, a bear cave, and a philosopher's pool.
I should explain the covered bridge thing. In New Hampshire there appears to be a tradition of building bridges with roofs - covered bridges. There doesn't seem to be an agreed reason for this tradition. It may shelter the bridge from the weather, and it may stop animals being scared on bridges since they can't see the drop and also are fooled into thinking they are going indoors. However there's extra weight and cost in building a covered bridge. Anyhow, Rebecca has some sort of mild obsession with the things, and got unnaturally excited when we saw one - I won't describe her excitement when we actually drove across one in the Dodge.
Wherever you go in New Hampshire you can't fail to notice the profile of The Old Man Of The Mountain. He is a rock formation that presents a craggy profile of a craggy old man, complete with square jaw and squarer hat. We headed off to the visitor centre to see this phenomenon.
And then we discovered something. The Old Man's face fell off in 2003. Its gone. They're not restoring it, instead they are building a memorial. We should have figured that out from all the signs saying 'Old Man Memorial Construction' everywhere. Or the small print on the side of the big map at the visitor's centre that told how a storm had caused the collapse. Or from the fact that there wasn't a great deal of people there. Boy did we feel dumb. In a funny way. We laughed our faces off.
Still, plenty of time in the day yet to enjoy more of the fall colours. We'd arrived at possibly the best weekend for viewing this world-famous seasonal sight.
Time for one more attraction on this day - the hike up to Arethusa Falls, the highest waterfall in New Hampshire. This was a few miles through more colourful woodland on a well-managed trail. At the waterfall chipmunks and squirrels jumped around at a speed too fast to photograph well, but the waterfall presented itself for consideration.
After some Chinese food in Lincoln we drove back to the Warren Village Inn and bed.
We awoke on Monday and found ourselves as the only remaining guests for breakfast. Our landlady told us about the history of the house, and all the care and expense she had put into restoring it to its immaculate condition. Carpenters had made custom window surrounds, the original fireplace was bought back from someone who took it when the house was in a near-derelict state, and the lower bedroom was converted for wheelchair access. We packed the car and left, stopping to examine the town missile and feed the salmon and trout at the fish hatchery. Warren is a pretty little village, and if you are staying in New Hampshire consider the Village Inn there rather than somewhere in slightly tacky Lincoln, with its dancing bears.
We now had to drive back to Manchester Airport, but we took in some sights on the way. Quincy Bog is a compact little nature reserve focussed on a pond that is home to beavers and geese.
The resident beavers had clearly been living up to their reputation for business, building two dams and a lodge in the middle of the pool. Gnawed tree stumps were scattered everywhere. However one beaver had clearly bitten off more than it could drag, with a huge tree lying fallen and abandoned. I checked under the trunk to make sure it hadn't collapsed onto the poor creature. Maybe it was going to come back tomorrow with a gang of beavers or a small bulldozer.
Our next stop on the way back to Manchester was at Squam Lake Science Center. Here they keep mostly injured animals that can't be re-released. There are mammals and birds, some gardens and a gift shop. Interactive exhibits give children something to play on. As we left the area, Rebecca had one last moment of excitement...
Then it was back to the airport, turn the car in, get the coach back to Boston, and then the bus and trolley back to her place. Now I had a couple of days to explore Boston.